Who wants to lose five kilos without doing any exercise?
Yes, it's True: you really can lose weight without doing any exercise.
I have been a Body Transformation Coach for over 15 years…
I know that weight loss is not determined by how much you exercise…
You have probably heard that weight loss is 70% nutrition, 30% exercise.
Well I believe that it's 100% nutrition…
No amount of exercise can undo a POOR diet.
I have worked with clients who could not exercise…
Recovering from operations…

Some had injuries so they just couldn't exercise…

Some had medical conditions that meant they could not exercise…

Some were just struggling to find the time and energy to exercise…
But they still wanted to lose weight.
Whilst they could not Exercise…
They all could work on their Nutrition..
And when I helped them eat better they all lost weight..
A client I was working with really wanted to lose weight.
She could not exercise due to a heart concern that was being tested…
She knew that losing weight would help her heart condition..
So we just focused on eating better, and eating pure natural foods each day…
I also included a Slimdown Smoothie in her daily meals to keep her feeling full and to beat her cravings.
In 12 weeks she lost 14.5kg
Week after week she was shrinking…
If you are struggling to find the Time and the Energy to exercise
I have the perfect first step for you.
Its called the Slimdown Smoothie Challenge and it starts on Monday (May 28th)
I first discovered Slimdown Smoothies when I lost my 20kgs.
I have been sharing my Slimdown Smoothie Recipes ever since…
Slimdown Smoothies are perfect for:
Helping You to Beat Belly Bloat

Flushing Body Fat and Toxins

Giving you More Energy
Helping you to Feel Fuller

Helping you to Beat Cravings

Boosting your metabolism so you Slimdown and Tone Up fast
If you are already Exercising…
The Slimdown Smoothie Challenge will take your results to a whole new level including some serious Toning…
The 14 Day Slimdown Smoothie Challenge Starts Monday May 28th.
Here is what you get when you start the challenge:
1) Slimdown Smoothie Challenge Recipe Guide
I've created every Smoothie in the guide to be quick and tasty and delicious.
And most importantly, easy to prepare.
2) A pack of Slimdown Smoothie Mix
After you join I will will send you a 30 serve pack of Slimdown Smoothie Mix via Express Post.
For each day of the Slimdown Smoothie Challenge
1. Have a Slimdown Smoothie as one of your meals for the day
You can choose to have your Smoothie for any of your meals.
This can be your breakfast, morning tea,lunch, afternoon tea or or Dinner.
Then eat healthy for the rest of your meals through the day.
(It's not just a smoothie & nothing else..)
2. Tick off your Countdown Calendar to stay on Track
3. Give your best effort over the next 14 days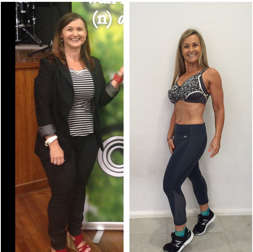 You will look Better

You will have more Energy

Your Tummy will be Flatter
The 14 Day Slimdown Smoothie Challenge Starts Monday June 18th…
Click Here to find out more about the program (and to grab your place)
I only have 46 places left in the program
Here is the link again to find out more about the program