Yesterday I opened up places in my latest "Drop a Dress Size Challenge"…
The idea of the Challenge is simple…
You start the program on Monday March 8th.
and Drop a Dress Size before easter…
In the program:
I tell you what to eat,
when to eat
and what exercise to do…
There is no starving yourself…
I am totally against that…
Just lots of delicious food…
and there aren't hours and hours of exhausting workouts either…
If you can spare 20 mins, 3 times a week
That's all you need to get started…
A few people asked me yesterday is it really possible to Drop a Dress Size before Easter?
and I understand why women might be sceptical…
I remember when I was trying to lose weight I tried so many programs…
and I never got a result like Dropping a Dress Size in 28 Days.
so today I am going to share the answer…
Can you Drop a Dress Size Before Easter?

First…How do I Know This Stuff?
I am a bit different to regular "fitness gurus" .
When I was young I definitely wasn't the "sporty" type.
I grew up eating coco pops, hot chips on white bread and drinking Fanta.
Before I changed my own body and became a Body Transformation Expert, I was actually out of shape…
…and there were times I was so frustrated and so sad and I thought I would never succeed.
I struggled to get into shape…for a really long time
I am always embarrassed to show my before photos, but here they are…
After I finally succeeded in changing my own body…
I made it my mission is to help other women who feel stuck, just like I did, to LOOK and FEEL great.
For the 10 years before I started Miss Fitness Life I ran Sydney's first Body Transformation Studio
A training facility focussed ENTIRELY on changing bodies.
I was so sure about my system for achieving Rapid Results I even promised my clients a money back guarantee…
I still don't think any other trainer is confident enough in their ability to get results to offer a money back guarantee…
Here's how it worked
I would measure a client before they started training with me.
Clients would do their workouts with me and follow my Meal Plan…
After 7 days it would be time to measure them again…
With just 7 days of training and eating right my clients are back for another measure…
with a money back guarantee on results…
And do you know what happened?
My Clients Always Got Results…
I would repeat this every 7 days until they got to their goal…
To get your clients these kind of results you kind of need to know your stuff…
But one thing is definitely true…
You Definitely CANNOT Drop a Dress Size in 7 Days
If you are following the same crummy advice that I see everywhere…
If You Try Starving yourself  – it just won't happen
Hours of Exhausting Cardio just won't get this result
Running or walking won't get you there either
Taking the latest "Magic Fatloss Pills" that you saw advertised on Instagram or Facebook…
Some tips from some 20 Year Old "Skinny Insta Queen" (who has never been overweight) won't do it
or jumping on board the latest fad won't do it
But the Truth is…
If you know how…
You can, without a doubt, Drop a Dress Size the EASY way…

VIP member Alyce did it…

VIP member Lee did it…

VIP member Catherine did it…

VIP member Gina did it…
Don't just take my word for it- Check out some of the results from just the first week of my program,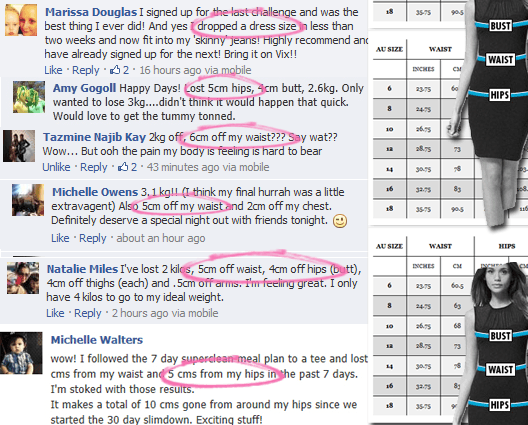 If you want to lose lose 5-30 kgs without ever feeling hungry…
….or deprived or exhausted from exercise…
Where everything is done for you…
I tell you what to eat
I tell you when to eat
I tell you what to do in your workouts
And I support you every step along the way
and the best thing…it works faster than any diet you have ever tried…
Then check out the Drop a Dress Size Challenge (its starts Mon March 8th)
Click Here to Find out all the details on the "Drop a Dress Size Challenge"
Click Here to Find out all the details on the "Drop a Dress Size Challenge"