You know all those diets where they say you can't eat bread, you can't eat carbs, you can't eat after 4pm, you have to fast, you have to detox on juices, you have to count calories
You need to live on broccoli and bone broth…
You have to starve yourself if you want to lose weight…
You need to miss out on all your favourite foods….
I LOVE food, so if you are anything like me…
A traditional diet is NEVER going to work.
When I lost my 20kgs I discovered there is a whole new way to get into shape.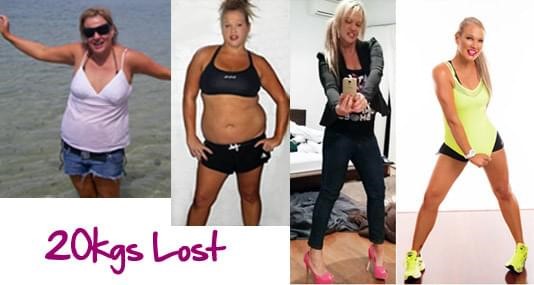 I am calling todays post the food lover's guide to weightloss…
The Food Lover's Guide to Weightloss
1. Foods they lied to you about (you can eat these foods and still lose weight)
You can get into incredible shape fast without living on celery sticks and lettuce leaves.
Heaps of foods that are "banned" in a traditional diet are actually going to make you feel fuller, beat your cravings and help you to slim down and tone up fast.
On my programs you don't need to miss out on:
Muffins,
Noodles,
Bread,
Peanut Butter,
Rice
Potatoes,
Wedges,
Pizza,
Spring rolls,
Lasagne
Banana Bread
Sossy rolls…
You can have them all.
Even coffee as well.
2. I tweaked traditional recipes of all my favourite meals so I could enjoy them every day and lose weight fast.
When I lost my 20kgs I new the only way I could succeed was to eat food that I LOVED.
So I took my favourite meals and turned them into fat burning recipes that were filling and delicious.
I loved the food, and the meals helped me to lose 20kgs.
These recipes are now part of all my programs.
Now my clients love sharing these meals with their families
3. I created recipes for slimdown cakes muffins and slices I could have every day
Traditional diets tell you can't enjoy sweet treats…
and treats were something I really missed every time I tried sticking to a "diet"
It took me a really long time (and lots of failed cakes)…
I finally cracked the formula for delicious, moist, yummy cakes and muffins you can eat every day on my meal plans.…and still get into awesome shape.
My banana bread has to be pretty close to the "holy grail" of Slim down foods.
It tastes exactly like regular banana bread even though it is has no added sugar no butter (unlike regular banana bread which is packed full of both).
When you use my recipes you can have one of these every day on my programs!
4. I found a way to use my favourite foods to boost my metabolism
We all have our favorite go-to food.
That food or meal that really hits the spot.
You know the food you really enjoy and look forward to.
Traditional diets have you believe that you need to miss out on all your favourite foods and can no longer enjoy your favourite meals.
I discovered I could still enjoy my favorite go-to food once a week, whether that was:
pizza and garlic bread,

spaghetti bolognese,

Thai noodles,

burgers and wedges,

a slice of apple pie,

going out to dinner with my partner,

or having an Indian takeaway on the couch watching a great funny film.
Having a special meal with your favourite foods once a week actually resets your metabolism to burn more fat 24/7.
This means you get faster results week after week.
If you like to socialize and entertain this is perfect for you as it creates a lifestyle balance.
If you could still eat your favorite foods and you didn't feel like you were ever missing out…
Do you think it would make getting into shape easier?
So if you are like me and you love food…and want to get into awesome shape in time for Summer...
Then Check out my 28 Day Summer Body Transformation.
The program starts on Monday October 8th…its the perfect time to start working on getting a flatter tummy in time for summer…
Here is more about the 
28 Day Summer Body Transformation
I decided to take all of my best "Body Transformation" Tricks,
combine them with my Rapid Results Meal Plans,
and add a set of my most responsive workouts for reshaping your tummy, hips, arms, thighs and butt.
So the overall results will be nothing short of dramatic.
You don't have to starve yourself

You don't have to miss out on your favourite foods

You don't have to spend hours and hours working out

You don't even have to join a gym
PS I am personally coaching the program so I only have 56 places available.
The last time I ran a program places completely sold out in just days…so be sure to grab a place in the program early before they are all gone…