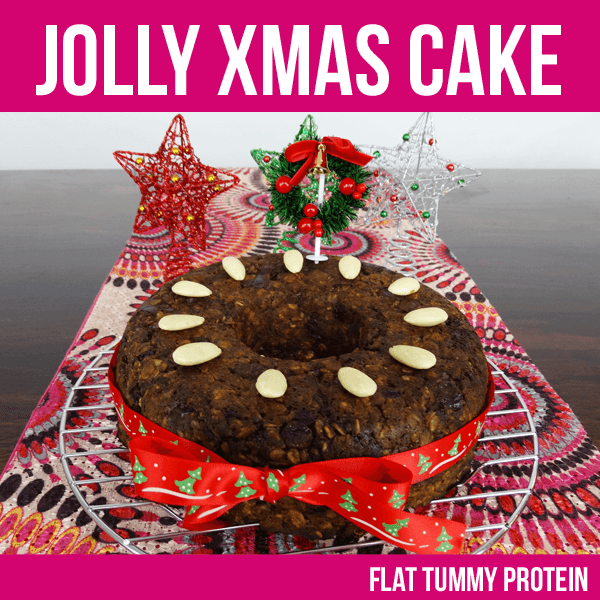 The Jolly Christmas Cake has become a favourite…
This cake is so full of pure goodness you can enjoy a slice everyday…
So if you love a decadent, moist, rich fruit and nut cake this recipe is for you…
Ingredients – 12 Serves
200 grams Dates – pitted and chopped
160 grams Mixed Dried Fruit
2 1/4 cups Water
200 grams Rolled Oats
4 scoops (120 grams) Flat Tummy Protein
1 heaped teaspoon Baking Soda
1 Tablespoon Honey or any other natural sweetener of choice
110 grams pure Apple Sauce 
½ cup Chopped Walnuts
1 teaspoon Cinnamon
2 teaspoon Mixed Spice
Zest of a whole Orange
70ml of Fresh Orange Juice (use the juice from the orange you took the zest from)
12 Blanched Almonds
Instructions
1. Preheat oven to 180 degrees Celsius

2. Place chopped dates and dried fruit mix into a saucepan with the water and simmer on a low heat for 15 minutes, or until softened (there should still be water left in the saucepan).
3. Meanwhile place oats, chopped walnuts, Flat Tummy Protein, cinnamon, mixed spice, orange zest and apple sauce in a large bowl.
4. Once the fruit has softened, add baking soda to the pot and mix together. (this will course the liquid to foam up so make sure your pot is big enough)
5. Pour the fruit and liquid over the rolled oats mixture.
6. Stir in the honey and orange juice.
7. Mix everything together until combined – if the mix is too dry or wet, simply add more water or more oats.
8. Line a baking tin with baking paper and press the mixture into the tin.
9. Bake for approximately 20 – 25 minutes at 180 degrees Celsius until slightly golden on top – be careful not to burn or over cook.
10. Leave to fully cool in the tin on a cooling rack before slicing into 12 pieces.
For an awesome Christmas Cake look add some blanched almonds on the top as decoration.
1 slice is equal to ONE serve

I use Flat Tummy Protein in the recipe so the cake has the perfect nutritional profile to beat cravings and hunger
as well as making you feel full 🙂
TIP Flat Tummy Protein Smoothies are the fastest, easiest way to stay on track over XMAS…
Click Here to find out more about Flat Tummy Protein
Click Here to find out more about Flat Tummy Protein