In yesterday's post I shared what not to do to lose weight.
Today I am sharing how I finally discovered the one thing that helped me to lose 20kgs.
OK, yesterday we finished at my biggest breakdown…
I had tried everything to get into shape and nothing had worked…
and then I got back the photos from my holiday…and hit ROCK BOTTOM.
After all my dieting and all my workouts I was looking worse than ever…
After my biggest breakdown, I gave it one last try.
I just had to calm myself down, pull up my big-girl pants and just go – "You know what?
I'm a smart girl.
I've got to work this out."
I needed to try something completely different, something I hadn't done before.
So, I did the exact opposite of dieting and restricting my food.
I actually quit my diet.
I ate heaps of good food, real food with lots of variety every single day.
Instead of messing up my body by skipping meals, I ate often through the day.
Then, the most amazing thing happened.
I lost just over 20 kilos.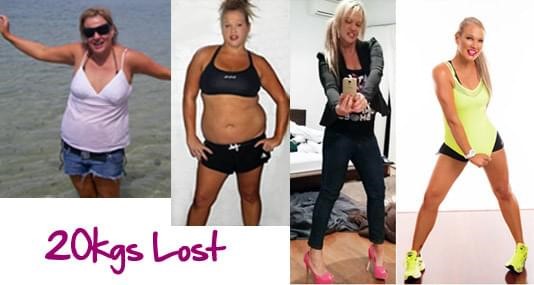 The results came fast.
I went from a tight size 14 to a loose-fitting size 8 pair of jeans…
It just felt amazing.
Everything changed for me.
I wasn't hungry all the time.
I beat my cravings, and my energy levels skyrocketed.
Plus, my happiness, my confidence, my self-belief all increased.
I just felt like a brand-new person. I just felt alive, and I finally had the confidence and energy to live the life I wanted to live.
Why did doing the exact opposite of dieting and starving myself work?
I will be sharing exactly why in tomorrows post
(keep an eye on your email tomorrow for the link)
If you would like to get into incredible shape by eating more, not less then check out my 21 Day Body Makeover (It starts on Monday)
Here is more about the 21 Day Body Makeover
Over the past 15 years I have worked with thousands of Body Transformation clients.
Women who want to look their very best before a big birthday or reunion
New Mums who deserve a little bit of a mummy makeover
Brides doing everything they can to look amazing on their big day
Actor's preparing for film and theater
Recording artists getting ready for their album launch
Models shaping up for their photoshoots
During this time I have gained some very cool insider knowledge on how to help my client's look and feel awesome in as little as 21 Days.
I decided to take all of my best "Hollywood Makeover" Tricks,
combine them with my Rapid Results Meal Plans and Recipes
and add a set of my most responsive workouts for reshaping your tummy, hips, arms, thighs and butt.
I am calling my brand new program the 21 Day Body Makeover…
To find out all about the program click the link below….